VALENTINA DEVINE DESIGNS PRESENTED AGAIN
.
I have always knitted! Born in Russia and growing up in Germany, I can remember knitting all sorts of things from doll clothes to small garments for myself.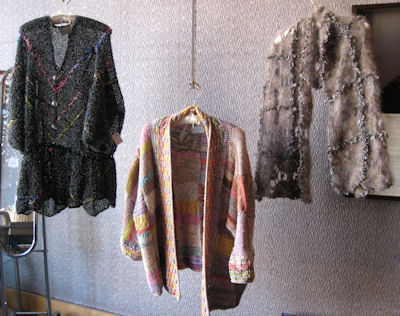 In the early eighties I became a life-time member of the Torpedo Factory Art Center in Alexandria Virginia. There I exhibited knitted one-of-a-kind garments and wall hangings. For the Folger Theater I knitted costumes for Macbeth. At the same time I started teaching a technique "Creative Knitting" and I continue to the present day.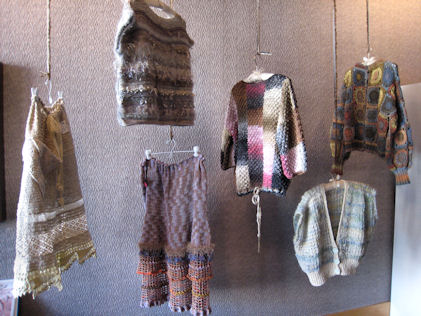 I have also knitted two major costumes for the road show of "CATS"; Deuteronomy and Gus, The Theater Cat. Some of my knitted garments have been chosen for the movie industry.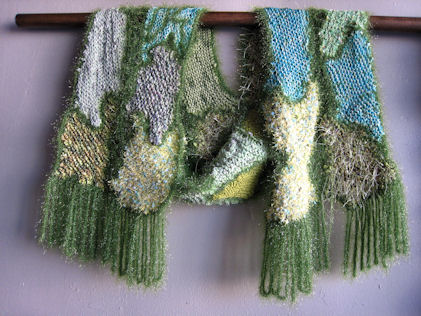 I now enjoy designing for different publications. I have been a contributor to many knitting books and publications. As time went on I have added to the courses I teach. I now teach six different techniques. I show my art-to-wear garments in different boutiques throughout the United States.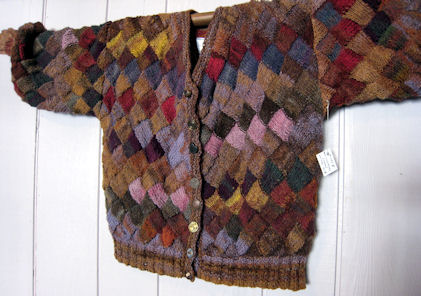 I can not imagine not knitting and I hope to continue to inspire many more knitters here and abroad.

Valentina Devine's previous exhibit: Valentina Devine Creates


Ruth Knight Sybers
Knitter's Treat
Monticello, WI 53570

www.209main.com - Textiles - current and past exhibits at The Dining Room at 209 Main

knitterstreat@wekz.net - to join e-mail list for announcements of new exhibits at The Dining Room at 209 Main

knitterstreat@wekz.net - to order patterns, books, Vivian Hoxbro kits, yarn, etc.

As always, a heartfelt thank you to Rhoda Braunschweig who plans and
David Braunschweig who assists in "hanging" each exhibit.
Photos by Lori Manning
Copyright © 2010.


Past Displays:

Jane M. Miller - East Side Bags
Looping - featuring Donna Kallner and Sue Koleczek
TEN YEARS OF KNITTING WORKSHOPS IN MONTICELLO, WI
Green County Barn Quilts and the Courthaus Quilt Guild
RareWear - Fiber Artist Laurie Boyer
Mary Kay McDermott
The Story of the Textiles from Guatemala
NANCY L. DAVIS & JOANNE SCHILLING - TEXTILE ARTISTS
MARY JO SCANDIN - Fiber and contemporary painting
FULLING AND FELTING
Nostalgia - Apron Collection by Jean Adler
TEN YEARS OF TEXTILE EXHIBITS - Ruth Knight Sybers
SILVER THREADS -- Lee Ann Kleeman
Point of View: thread-work by Beth Blahut
Latvian Textiles
HANDKERCHIEFS
Hooked Rugs by Ellie Beck
ELIZABETH ZIMMERMANN
JOYCE MARQUESS CAREY
AESOP'S FABLES
First Knitting Invitational
Weaving and the Structo Loom
Valentina Devine Creates
JAPANESE TEXTILES -- OLD AND NEW
Wearable Art
Moving Weft
Men Who Knit
Quilts by the Thursday Friends
WEAVING WITH SEWING THREAD
HISTORIC MONTICELLO WOOLEN MILL
Katherine Pence Inspired by Everything
WHY DO I SPIN?
THE EARLY KNITTED WORKS OF JOYCE WILLIAMS
EMBROIDERY - the late Ellen Scheidler
QUILTS OF MONTICELLO
23 HATS BY ESTHER AND OLGA
FROM GRANDMA'S TRUNK
JEAN NORDLUND - Ewe Hues
NAVAJO RUGS Weavings - Fran Potter
KNITTED LACE
SOCKS
FIRST SHOW: Knitting - Ruth Sybers, Wall hanging - Kathy LaBeil