Mary Alice Hart - digital photos become quilts
.
I was surrounded with quilts from an early age. My grandmother, aunts and my mother all quilted – mostly of necessity, since they were all farm wives in southern Illinois. My initiation to the art form was threading needles during their quilting bees.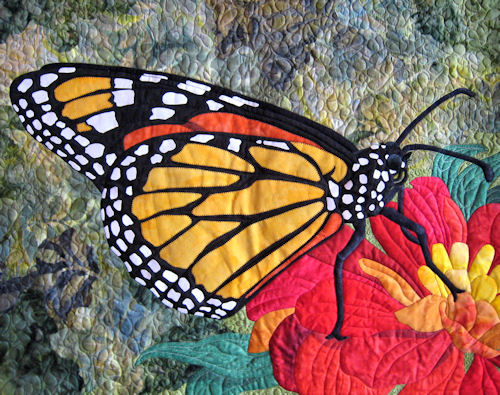 .
Sewing has been a part of my life starting with my first "feed sack" skirt and continuing through my home economics education and long time teaching career. My first quilt however was made nearly forty years ago when our son was born.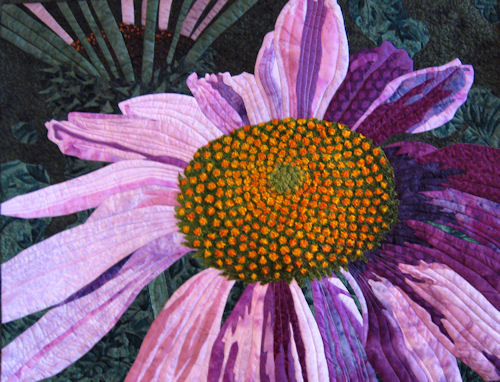 .
In 2008 three things converged to forever change the focus of my quilting; a digital camera, Solvron®, and an article in the Quilting Arts magazine. The camera took great close-ups of flowers that I longed to turn into quilts. In a quilt shop I discovered Solvron®, a water-soluble material used to give fabric interesting textural effects – I'm seeing possibilities here! And the article gave me the final piece of the puzzle showing me how to turn my pictures into a pattern. I was hardly finished with my first piece, Brown-Eyed Susan, when I found myself totally obsessed.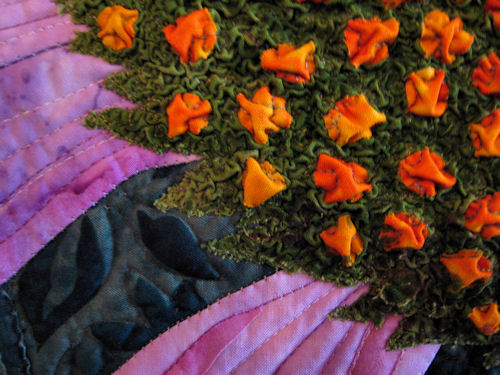 ~Close-up of flower above~
.
In the quilt world my work is classified as machine appliqué. It is based on photos that are manipulated in the computer to create a master pattern and pattern templates. Most of the fabric pieces are cut with a seam allowance that is turned under and the pieces are then assembled like a jigsaw puzzle. When the piece meets my approval the sewing/quilting begins.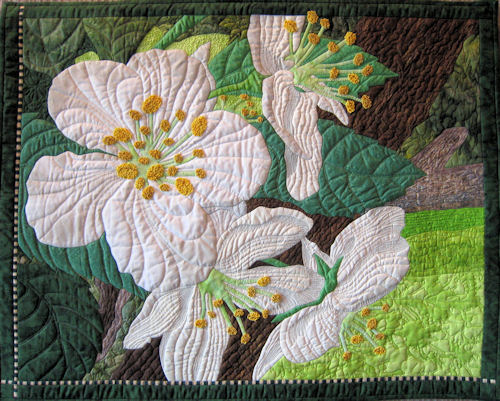 "Mother Nature" is the artist in my work – she has created the form and chosen the colors.

I am the interpreter.

I honor her by trying to be as true as possible to the original photo.
Ruth Knight Sybers
Knitter's Treat
Monticello, WI 53570

www.209main.com - Textiles - current and past exhibits at The Dining Room at 209 Main

knitterstreat@wekz.net - to join e-mail list for announcements of new exhibits at The Dining Room at 209 Main

knitterstreat@wekz.net - to order patterns, books, Vivian Hoxbro kits, yarn, etc.

As always, a heartfelt thank you to Rhoda Braunschweig who plans and
David Braunschweig who assists in "hanging" each exhibit.
Photos by Lori Manning
Copyright © 2011.


Past Displays:

Mary Ann Fitzgerald: Chinese Baby Carriers
VALENTINA DEVINE DESIGNS PRESENTED AGAIN
Jane M. Miller - East Side Bags
Looping - featuring Donna Kallner and Sue Koleczek
TEN YEARS OF KNITTING WORKSHOPS IN MONTICELLO, WI
Green County Barn Quilts and the Courthaus Quilt Guild
RareWear - Fiber Artist Laurie Boyer
Mary Kay McDermott
The Story of the Textiles from Guatemala
NANCY L. DAVIS & JOANNE SCHILLING - TEXTILE ARTISTS
MARY JO SCANDIN - Fiber and contemporary painting
FULLING AND FELTING
Nostalgia - Apron Collection by Jean Adler
TEN YEARS OF TEXTILE EXHIBITS - Ruth Knight Sybers
SILVER THREADS -- Lee Ann Kleeman
Point of View: thread-work by Beth Blahut
Latvian Textiles
HANDKERCHIEFS
Hooked Rugs by Ellie Beck
ELIZABETH ZIMMERMANN
JOYCE MARQUESS CAREY
AESOP'S FABLES
First Knitting Invitational
Weaving and the Structo Loom
Valentina Devine Creates
JAPANESE TEXTILES -- OLD AND NEW
Wearable Art
Moving Weft
Men Who Knit
Quilts by the Thursday Friends
WEAVING WITH SEWING THREAD
HISTORIC MONTICELLO WOOLEN MILL
Katherine Pence Inspired by Everything
WHY DO I SPIN?
THE EARLY KNITTED WORKS OF JOYCE WILLIAMS
EMBROIDERY - the late Ellen Scheidler
QUILTS OF MONTICELLO
23 HATS BY ESTHER AND OLGA
FROM GRANDMA'S TRUNK
JEAN NORDLUND - Ewe Hues
NAVAJO RUGS Weavings - Fran Potter
KNITTED LACE
SOCKS
FIRST SHOW: Knitting - Ruth Sybers, Wall hanging - Kathy LaBeil