I quilt because it offers me a significant creative outlet. I don't draw or paint, but I do see how shapes and colors can come together to be something so much more than the sum of its parts. I enjoy the challenge of balancing warm and cool colors or creating a piece of art that invites you to continue to look at it without growing tired or complacent. I enjoy the puzzle of figuring out the most efficient way to put all of the pieces together. I can put a little piece of myself into each of my quilts through the choices I make regarding the colors, the fabrics, the pattern, and the quilting itself.

I quilt because it's therapy. When life gets too real and I want to shut out the world, forget my troubles, and take a break from the challenges of the day, I can lose myself in the rhythm of the feed dogs pulling the layers through the sewing machine. I must be in the here and now, I must pay attention to what I am doing, but if I stay focused, I am rewarded not only with functional artwork, but with relief from my troubles, even if only temporary.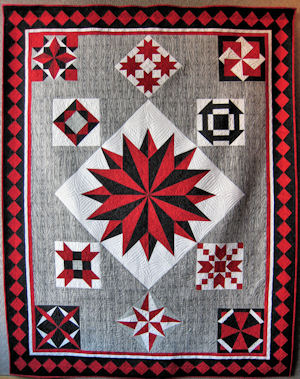 Green County Barn Quilt Sampler 2

I like to call this the Badger Barn Quilt. The blocks for the quilt were chosen based on the colors painted on the barns. I took all of the blocks that were red, black, white and gray and arranged them into the quilt you see hanging here. It contains 11 blocks hanging on barns throughout Green County.