JANE GROGAN - WEAVING ON FRAME LOOMS
.
Jane has been fascinated with fiber since she first read tales of spinning straw into gold in fairy tales. Her fascination with spinning was realized in the mid-1970's. Jane started weaving on a four-shaft table loom in 1979, but it was not until she acquired a 7-foot triangle loom in 1990 that she found her dream tool. The 'instant' warp while you weave has provided endless hours of fascination. Jane has since added smaller size looms to her collection which are perfect for 'on the go' projects.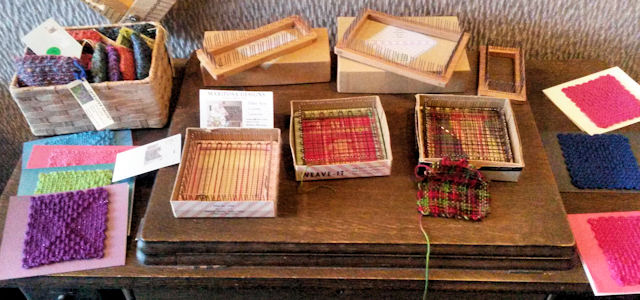 CONTINUOUS STRAND WEAVING ON FRAME LOOMS
IN VARIOUS SIZES


Continuous strand weaving begins just as soon as a foundation row is attached to the loom and then the weaving continues from the same ball of yarn by weaving a loop over and under the foundation which increases as each loop is finished and hooked on a nail. Each row of weaving makes the piece grow from the outside corners of the loom toward the center. The last row is actually a single strand. The edges of the weaving are all interlocked so no additional securing of the edges is needed.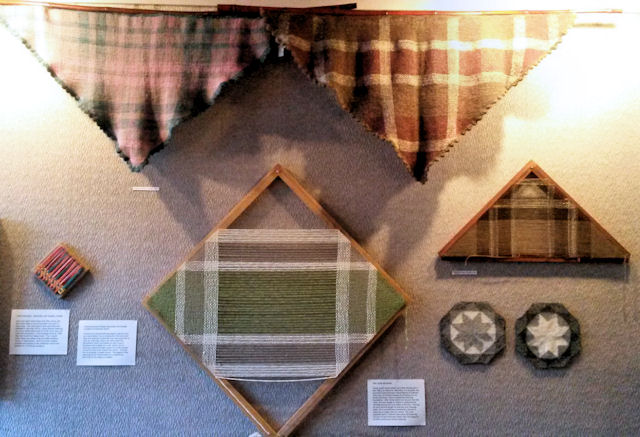 PIN LOOM WEAVING


These small looms which were first introduced in the 1930's as Weave-It, Weavette, or Loomette, are currently experiencing a reresurgence of interest. This loom is actually warped by winding yarn in three directions, which creates the weaving foundation. After three layers are wound onto the loom, the yarn length to weave is measured by winding around the four sides of the pins. Having to carry the full length of weaving yarn through each row in sometimes considered a barrier to weaving on larger size pin looms. Pin loom squares have a 'natural' bias since the weaving occurs on the horizontal rather than the diagonal as with continuous strand weaving.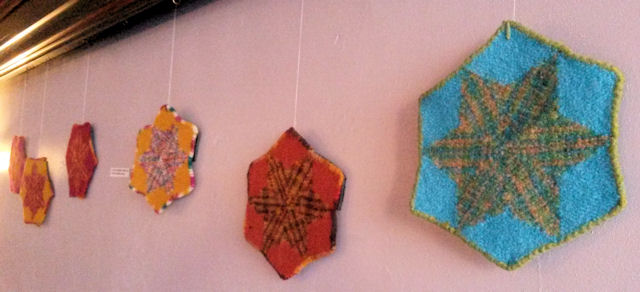 Ruth Knight Sybers
Knitter's Treat
Monticello, WI 53570

www.209main.com - Textiles - current and past exhibits at The Dining Room at 209 Main

knitterstreat@wekz.net - to join e-mail list for announcements of new exhibits at The Dining Room at 209 Main

knitterstreat@wekz.net - to order patterns, books, Vivian Hoxbro kits, yarn, etc.

As always, a heartfelt thank you to Rhoda Braunschweig who plans and
David Braunschweig who assists in "hanging" each exhibit.
Photos by Lori Manning
Copyright © 2015.


Past Displays:

BLACKBERRY RIDGE WOOLEN MILL - Anne and Mark Bosch
Elizabeth Tuttle's Fulled Wool Compositions
Valentina Devine
RAE ERDAHL'S COLLECTION OF ETHNIC HATS, DOLLS, AND GARMENTS
WEAVINGS BY TUESDAY FRIENDS: FRAN POTTER AND HER STUDENTS
CHALLENGE QUILT
Ethnic Socks - Rae Erdahl
Why I Quilt - Barbara Hartman
Kelly Marshall - Custom HandWovens - Functional art pieces
Knitting Designs by Meg Swansen
Mary Alice Hart - digital photos become quilts
Mary Ann Fitzgerald: Chinese Baby Carriers
VALENTINA DEVINE DESIGNS PRESENTED AGAIN
Jane M. Miller - East Side Bags
Looping - featuring Donna Kallner and Sue Koleczek
TEN YEARS OF KNITTING WORKSHOPS IN MONTICELLO, WI
Green County Barn Quilts and the Courthaus Quilt Guild
RareWear - Fiber Artist Laurie Boyer
Mary Kay McDermott
The Story of the Textiles from Guatemala
NANCY L. DAVIS & JOANNE SCHILLING - TEXTILE ARTISTS
MARY JO SCANDIN - Fiber and contemporary painting
FULLING AND FELTING
Nostalgia - Apron Collection by Jean Adler
TEN YEARS OF TEXTILE EXHIBITS - Ruth Knight Sybers
SILVER THREADS -- Lee Ann Kleeman
Point of View: thread-work by Beth Blahut
Latvian Textiles
HANDKERCHIEFS
Hooked Rugs by Ellie Beck
ELIZABETH ZIMMERMANN
JOYCE MARQUESS CAREY
AESOP'S FABLES
First Knitting Invitational
Weaving and the Structo Loom
Valentina Devine Creates
JAPANESE TEXTILES -- OLD AND NEW
Wearable Art
Moving Weft
Men Who Knit
Quilts by the Thursday Friends
WEAVING WITH SEWING THREAD
HISTORIC MONTICELLO WOOLEN MILL
Katherine Pence Inspired by Everything
WHY DO I SPIN?
THE EARLY KNITTED WORKS OF JOYCE WILLIAMS
EMBROIDERY - the late Ellen Scheidler
QUILTS OF MONTICELLO
23 HATS BY ESTHER AND OLGA
FROM GRANDMA'S TRUNK
JEAN NORDLUND - Ewe Hues
NAVAJO RUGS Weavings - Fran Potter
KNITTED LACE
SOCKS
FIRST SHOW: Knitting - Ruth Sybers, Wall hanging - Kathy LaBeil