Jennifer Angelo - Nuno Scarves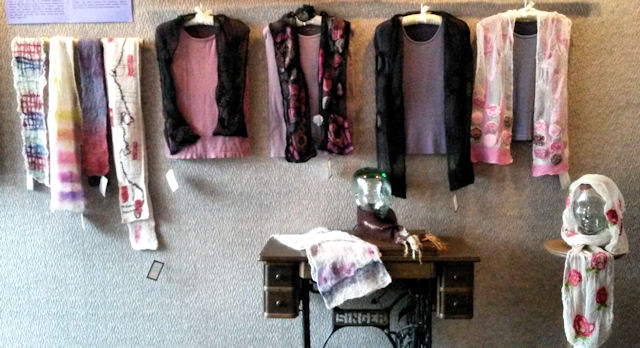 .
My goal is to craft felted wearable art. These works provide not only warmth but also a sense of peace and comfort inspired by my five-year stay in New Zealand. I feel it is important to keep art close to the heart, which is why my works are wearable.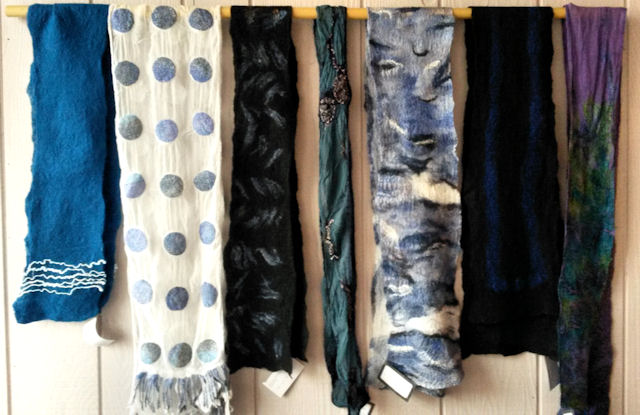 The ubiquitous sheep in New Zealand inspired my use of wool and silk to produce beautiful, lightweight garments using a technique called nuno felting. The sheep dotting the country's green fields and paddocks provide a quality supply of merino fleece well suited to the creation of sturdy yet delicate garments that drape nicely and hold their shape well.
Nuno—from the Japanese word for "cloth"—is a modern take on the ancient craft of felting that involves coaxing slender wool fibers through loose silk fabric. I decided to learn more about this special process. Nuno felting offers wonderful versatility when creating deep colors and touchable textures.

Inspired by New Zealand artists, ocean waves and wildlife, my work honors the country's natural resources and uses a technique that uses its native materials in a respectful and sustainable way.

jangelo@jangelo.com

Ruth Knight Sybers
Knitter's Treat
Monticello, WI 53570

www.209main.com - Textiles - current and past exhibits at The Dining Room at 209 Main

knitterstreat@wekz.net - to join e-mail list for announcements of new exhibits at The Dining Room at 209 Main

knitterstreat@wekz.net - to order patterns, books, Vivian Hoxbro kits, yarn, etc.

As always, a heartfelt thank you to Rhoda Braunschweig who plans and
David Braunschweig who assists in "hanging" each exhibit.
Photos by Lori Manning
Copyright © 2015.


Past Displays:

JANE GROGAN - WEAVING ON FRAME LOOMS
BLACKBERRY RIDGE WOOLEN MILL - Anne and Mark Bosch
Elizabeth Tuttle's Fulled Wool Compositions
Valentina Devine
RAE ERDAHL'S COLLECTION OF ETHNIC HATS, DOLLS, AND GARMENTS
WEAVINGS BY TUESDAY FRIENDS: FRAN POTTER AND HER STUDENTS
CHALLENGE QUILT
Ethnic Socks - Rae Erdahl
Why I Quilt - Barbara Hartman
Kelly Marshall - Custom HandWovens - Functional art pieces
Knitting Designs by Meg Swansen
Mary Alice Hart - digital photos become quilts
Mary Ann Fitzgerald: Chinese Baby Carriers
VALENTINA DEVINE DESIGNS PRESENTED AGAIN
Jane M. Miller - East Side Bags
Looping - featuring Donna Kallner and Sue Koleczek
TEN YEARS OF KNITTING WORKSHOPS IN MONTICELLO, WI
Green County Barn Quilts and the Courthaus Quilt Guild
RareWear - Fiber Artist Laurie Boyer
Mary Kay McDermott
The Story of the Textiles from Guatemala
NANCY L. DAVIS & JOANNE SCHILLING - TEXTILE ARTISTS
MARY JO SCANDIN - Fiber and contemporary painting
FULLING AND FELTING
Nostalgia - Apron Collection by Jean Adler
TEN YEARS OF TEXTILE EXHIBITS - Ruth Knight Sybers
SILVER THREADS -- Lee Ann Kleeman
Point of View: thread-work by Beth Blahut
Latvian Textiles
HANDKERCHIEFS
Hooked Rugs by Ellie Beck
ELIZABETH ZIMMERMANN
JOYCE MARQUESS CAREY
AESOP'S FABLES
First Knitting Invitational
Weaving and the Structo Loom
Valentina Devine Creates
JAPANESE TEXTILES -- OLD AND NEW
Wearable Art
Moving Weft
Men Who Knit
Quilts by the Thursday Friends
WEAVING WITH SEWING THREAD
HISTORIC MONTICELLO WOOLEN MILL
Katherine Pence Inspired by Everything
WHY DO I SPIN?
THE EARLY KNITTED WORKS OF JOYCE WILLIAMS
EMBROIDERY - the late Ellen Scheidler
QUILTS OF MONTICELLO
23 HATS BY ESTHER AND OLGA
FROM GRANDMA'S TRUNK
JEAN NORDLUND - Ewe Hues
NAVAJO RUGS Weavings - Fran Potter
KNITTED LACE
SOCKS
FIRST SHOW: Knitting - Ruth Sybers, Wall hanging - Kathy LaBeil