RUG HOOKING with ELLIE BECK

.
My rug hooking hobby started in the late 1980s when I attended a rug hooking camp in Maine. I had been an antiques dealer and decided to combine a camp with a shopping trip. While in New England I bought some old rugs and learned the rudiments of rug hooking.

In 1990 we bought a stone house near Mineral Point that needed a total restoration. I now had a real purpose, supplying the finished house with hooked rugs. And so an almost obsession began.

At the same time I found a rug hooking group in Milwaukee and joined in with their activities. It was there I met some local Madison women who had a monthly meeting and they invited me to join them. In 1992 I attended a rug hooking camp in Vermont with some of these women and was "hooked". I attended that Green Mountain camp a total of 14 times. I also attended camps on Nantucket and Williamsburg, Santa Fe and Mineral Point, and hook-ins in Milwaukee and Wautoma, and a lot more informal gatherings.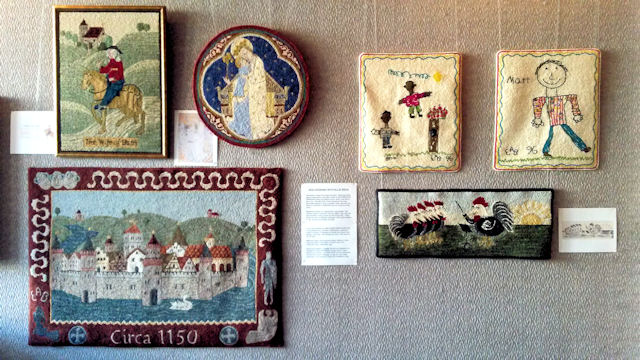 I started hooking the traditional patterns that I wanted for the stone house but before long, I had enough and moved on to other styles. I have been to many rug shows and subscribed to many magazines showing the old rugs and have a library of books about rugs, old and new. American Hooked and Sewn Rugs by Joel and Kate Kopp is my favorite for both history and rug illustrations.

I have made many of my own designs and used printed patterns of other designers, often with my modifications to fit my ideas. Choosing colors is great fun for me and hooking them into a rug very satisfying. I've given a few to other people because: (1.) I have plenty and (2.) Making them is the fun, having them is not as much fun as giving them to chosen people who I know will treat them carefully.

Inspiration comes from many sources. Many years ago there was a first article in the New Yorker magazine that would have an illustration heading it. The chorus of chickens drawn by Edward Koren, just had to be a rug. The New York Times frequently has long, horizontal photos of lines of people, dogs, dancers, whatever. My rug of diversity dancers was my version of their photo. Magdalena Briner is a rug-hookers rug hooker. She hooked rugs for income in the mid 1800s. Her rugs are documented in many books as true folk art. Evelyn Lawrence of Pennsylvania has sought them out in PA
and made patterns that are sold to rug hookers. I've loved her style of abandon although I can't quite achieve that. They are simply my style. I've documented our little stone farm house with a rug designed by a woman in Minnesota. However, I made a number of changes to include our house, barn, garage, trees, etc. The animals are only in the rug!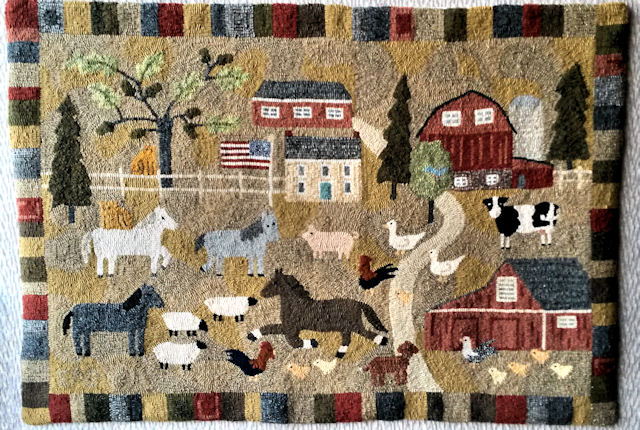 My husband and I have enjoyed 10 marvelous tours in Great Britain and Europe through the extension trips led by a professor of Medieval History. Visiting and touring with my German cousin and her husband, has been quite educational and more than a pleasure. Medieval history has become another hobby of mine. Thus the Circa 1150, Wife of Bath, and the 13th century wall painting rugs. And, since my birthday is October 30 and our daughter's is October 31, Halloween has always been a major event in our house. Daughter, Sue, has her own rug celebrating. Halloween and her birthday. Her twin sons are the inspirations for the two hooked drawings. At age 6, they made drawings of themselves to send me for Mother's Day.

It's been a great journey..
Ruth Knight Sybers
Knitter's Treat
Monticello, WI 53570

www.209main.com - Textiles - current and past exhibits at The Dining Room at 209 Main

knitterstreat@wekz.net - to join e-mail list for announcements of new exhibits at The Dining Room at 209 Main

knitterstreat@wekz.net - to order patterns, books, Vivian Hoxbro kits, yarn, etc.

As always, a heartfelt thank you to Rhoda Braunschweig who plans and
David Braunschweig who assists in "hanging" each exhibit.
Photos by Lori Manning
Copyright © 2015.


Past Displays:

Jennifer Angelo - Nuno Scarves
JANE GROGAN - WEAVING ON FRAME LOOMS
BLACKBERRY RIDGE WOOLEN MILL - Anne and Mark Bosch
Elizabeth Tuttle's Fulled Wool Compositions
Valentina Devine
RAE ERDAHL'S COLLECTION OF ETHNIC HATS, DOLLS, AND GARMENTS
WEAVINGS BY TUESDAY FRIENDS: FRAN POTTER AND HER STUDENTS
CHALLENGE QUILT
Ethnic Socks - Rae Erdahl
Why I Quilt - Barbara Hartman
Kelly Marshall - Custom HandWovens - Functional art pieces
Knitting Designs by Meg Swansen
Mary Alice Hart - digital photos become quilts
Mary Ann Fitzgerald: Chinese Baby Carriers
VALENTINA DEVINE DESIGNS PRESENTED AGAIN
Jane M. Miller - East Side Bags
Looping - featuring Donna Kallner and Sue Koleczek
TEN YEARS OF KNITTING WORKSHOPS IN MONTICELLO, WI
Green County Barn Quilts and the Courthaus Quilt Guild
RareWear - Fiber Artist Laurie Boyer
Mary Kay McDermott
The Story of the Textiles from Guatemala
NANCY L. DAVIS & JOANNE SCHILLING - TEXTILE ARTISTS
MARY JO SCANDIN - Fiber and contemporary painting
FULLING AND FELTING
Nostalgia - Apron Collection by Jean Adler
TEN YEARS OF TEXTILE EXHIBITS - Ruth Knight Sybers
SILVER THREADS -- Lee Ann Kleeman
Point of View: thread-work by Beth Blahut
Latvian Textiles
HANDKERCHIEFS
Hooked Rugs by Ellie Beck
ELIZABETH ZIMMERMANN
JOYCE MARQUESS CAREY
AESOP'S FABLES
First Knitting Invitational
Weaving and the Structo Loom
Valentina Devine Creates
JAPANESE TEXTILES -- OLD AND NEW
Wearable Art
Moving Weft
Men Who Knit
Quilts by the Thursday Friends
WEAVING WITH SEWING THREAD
HISTORIC MONTICELLO WOOLEN MILL
Katherine Pence Inspired by Everything
WHY DO I SPIN?
THE EARLY KNITTED WORKS OF JOYCE WILLIAMS
EMBROIDERY - the late Ellen Scheidler
QUILTS OF MONTICELLO
23 HATS BY ESTHER AND OLGA
FROM GRANDMA'S TRUNK
JEAN NORDLUND - Ewe Hues
NAVAJO RUGS Weavings - Fran Potter
KNITTED LACE
SOCKS
FIRST SHOW: Knitting - Ruth Sybers, Wall hanging - Kathy LaBeil